Home

/

Big Text Generator
Big Text Generator
---
Big Font Generator
Big text generator helps you to generate large text with multiple unique combinations of cool letters and symbols.
The big word generator will enhance the size of your given regular words and convert them into bigger text within seconds.
How to use this Big Text Generator?
To generate and use big text, follow the below easy steps:
1. Type or paste your simple text in the left input box
2. Or, upload a file from the system to create giant text
3. Copy the Big Text from the left output box
After typing or pasting your plain text this giant text generator will automatically convert your ordinary text into big and cool fonts in real-time.
You can see the example of the big text generated by our tool in the below image: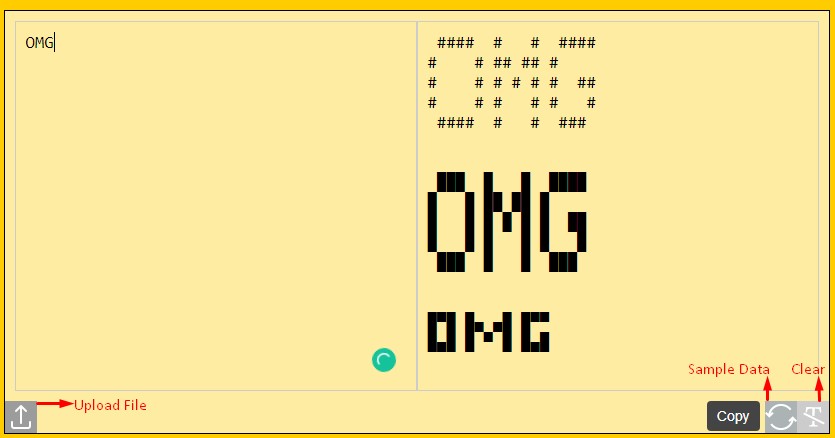 Features of this Big Word Generator
The features of this large font generator are given below:
Files Uploading
You can upload .TXT, .DOC, and .DOCX files into big text generator by using this feature.
Provides Sample Data
This feature helps you to check the working of our big word generator by loading sample data in the input box.
It helps you to check big text before writing or uploading a file in the input box.
Copy to Clipboard
You can copy and paste large text created by this big letter and text generator and can use it in your documents and other files without any hassle.
Clear Text Option
This feature allows you to clear all the text written in the input box and helps you to create new big and stylish text in seconds.
Free and Secure
Now, you do not have to pay a single penny to create huge text. Our large text generator is completely free and 100% secure to use for everyone.
Benefits of using Huge Text Generator
Our big font generator allows you to get three big style fonts within a fraction of seconds.
It helps you to get the attention of your followers on Instagram and Facebook by creating attractive profile names.
This giant text generator helps you to create large fonts for chats on different social media platforms.
You can copy and paste Giant text in your Facebook or WhatsApp stories and in comment sections to confuse people.
You can also use this big text generator for social media platforms like Facebook, dicord, watsapp, Instagram and etc