Grammar Fixer
Our grammar checker helps you to check and fix all the grammatical, spelling, and punctuation errors in your content.
It makes a quick spelling and grammar check of your content, highlights the writing errors, and gives the appropriate solution to fix it.
How to use Grammar Checker?
To make a free grammar check by using our tool, follow the below easy steps:
Type or paste your content in the above input box
Or, upload a file directly from the system
Run the Captcha Code
Hit the Check Grammar button
This English corrector will deeply scan the content and give the best solution to fix writing errors within seconds.
Features of our free Grammar Fixer
Type or paste content
Our grammar fixer allows you to either write or directly paste your content in the above input field.
Upload Content via Files Uploading
You can upload files only in TXT, DOCX, and PDF format in our tool to check your content for any grammar or spelling errors.
Word Counter
Its word counter feature quickly counts all the written words written in the input box.
Highlight the Grammar Errors
After checking the entire content, it highlights and underlines all the possible writing errors in your content.
Fix the Writing Errors
Our grammar checker provides the best solution to fix grammatical errors and helps you to enhance your writing skills without any hassle.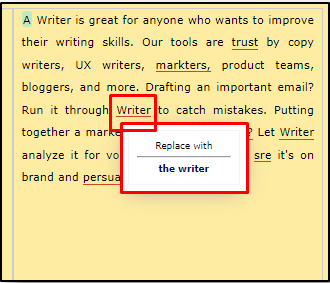 Copy to Clipboard
You can fix all the errors and copy the result report in real-time with one click.


Download Report
This feature of our English corrector lets you download the result report only in DOC format.
Check Plagiarism Option
After fixing all the grammar errors, you can use this feature to check plagiarism of your content in no time.
This feature helps you to make sure that the content you are going to use is unique and plagiarism-free.


Free and secure to use
Our grammar fixer is completely free and secure to use for everyone. It never saves or shares your content with any third parties.
Uses of our Online Grammar corrector
This grammar checker essay helps students to enhance the quality of their essays by checking and fixing all grammar, spelling, and punctuation errors.
It helps bloggers and webmasters to publish error-free articles effortlessly.
Our grammar fixer saves a lot of time and automatically proofreads the entire content within seconds.
It is easily accessible on all smart devices. You can quickly perform a spelling and check of your content by using it on your smartphone or PC.